Legend Racing Enterprises new Outlaw Drag Radial car
This rendering is what the finished product should look like.
It will be a stock style suspension, mini-tubbed, X275 car. It will pack a 555ci BBC, getting it's motivation from two Induction Solutions foggers. With a nitrous plate on top just for good measure. The front suspension is all tubular BMR fabrication, the rear suspension is a Madman torque arm with LRE lower control arms and an LRE wishbone. And a Wolfe double anti-roll bar to keep it all square. The chassis is 25.3 certified and legal to 6.50. The transmission is an all aluminum powerglide built by the guys at Finish Line Transmissions.
Check back soon for more updates.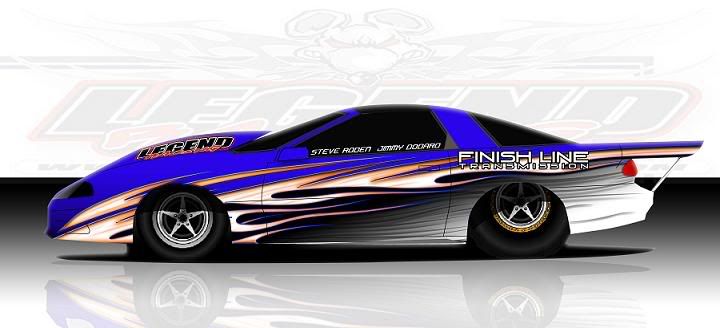 With the chassis work nearing completion the car is headed to the body shop to finish up some metal work and lay a coat of Electric Blue paint on it. We will then take the car for a half wrap and lay our sponsors decals on it.